1.

The grid

To allow flow to be computed numerically, space and time need to be discretised. For time are time-steps defined, and for space is a grid defined. In the sections below we elaborate on the grid specified for computations in the 1D and in the 2D surface water and groundwater domains.

3Di simulations can consist of a surface water, a groundwater and a 1D network component. The surface water and groundwater components are in principle a two-layer model, which can be coupled to the 1D network. Therefore, the grid of the surface water and groundwater domain are similar, while the 1D network is fundamentally different.
1.1.

Computational grid for 2D domain

In 3Di we make use of a so-called structured, staggered grid. This implies for the surface water and the groundwater domain that computational cells are perfect squares, where the pressure/ water levels and volumes are defined in the cell centres and velocities and discharges are defined at the cell edges. This also yields for the vertical coupling. In the Figures below, an example is shown of a grid in a 2D domain and the two-layer coupling.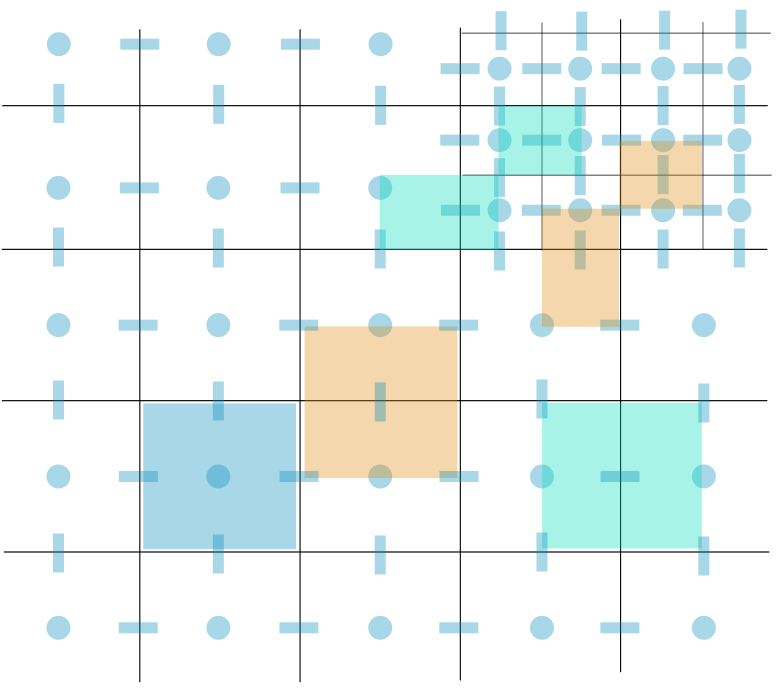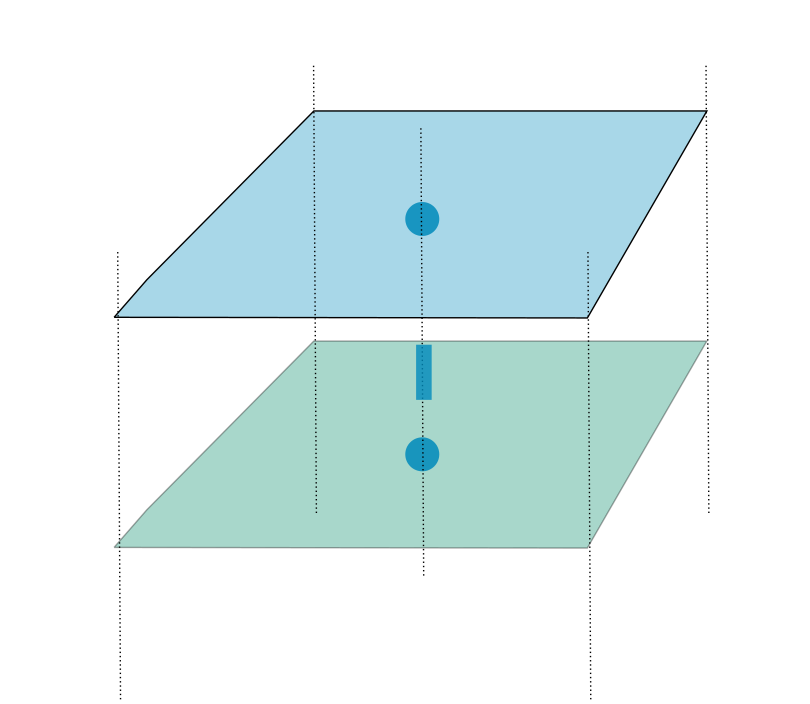 The hydrodynamic computations are based on the conservation of volume and momentum. In the next sections (Conservation of mass, 1D Flow, 2D Surface Flow, and 2D Groundwater flow), the methods concerned for the computations are discussed. However, in order to solve the equations, the domains in which they are valid, need to be defined. In the Figure above, the volume and momentum domains are shown.
1.2.

Computational grid for 1D domain

For studying the flow of narrow features in the landscape or sewer systems, it is advantageous to use one dimensional models. This allows for an extensive description of the system, without actually computing cross-flow phenomena. These are in those cases limited and the use of a 1D representation will reduce the computational cost. In 3Di 1D networks can be defined, representing open channels, manholes, weirs, orifices, culverts and closed pipes. There are several options to couple the 1D and the 2D domain (see Section 1D Flow). All options for the coupling allow for a fully integrated computation, this means that the full 1D and 2D systems are solved as one.

To compute the flow in a 1D network a grid is to be defined as well. Consistent with the grid defined for the 2D domain, a staggered grid is used again. Pressure/ water level points are allocated with a velocity point. An example can be seen in the Figure below.

1.2.1.

Input

1D networks can consist of open channels, closed pipes and various structures. More about the various options can be found in the Sections 1D flow over structures and Channels. The resolution of the 1D domain can be defined per 1D element.